Marlene Dietrich, the legendary actress of Hollywood's Golden Age, once said "Champagne makes you feel like it's Sunday and better days are round the corner". We are inclined to agree with these wise words, especially in the current climate.
There are few alcoholic drinks more synonymous with prestige and luxury than Champagne. However, despite the fact that everybody is familiar with the world's most iconic sparkling wine, choosing a bottle can be a daunting prospect. So with the festive season fast approaching, what better time to acquaint yourself with some of the different styles of Champagne to ensure that you choose the perfect bottle to make your celebrations even more memorable.
What is Champagne?
While all Champagne is sparkling wine, not all sparkling wine is Champagne. True Champagne must come from the Champagne region of France, located slightly east of Paris. Here, the cool climate and chalky soils are ideal for producing wines, mainly from Chardonnay, Pinot Noir and Pinot Meunier grapes, with high acidity, medium body and light alcohol. These wines are then fermented for a second time using the "traditional method" to create Champagne's sparkle.
Following this period of fermentation, the dead yeast cells (lees) slowly release flavours into the wine as it ages, giving Champagne its signature biscuit, brioche and bready notes.
Non Vintage or Vintage
Non vintage (NV) Champagnes often have fewer biscuity flavours than vintage Champagnes. This is because it is a legal requirement for non-vintage Champagne to be aged for a minimum of 15 months in the bottle with at least 12 months on lees. In contrast, vintage Champagne must spend a minimum of 3 years on lees. That said, many Champagne houses age their better wines for significantly longer.
A non-vintage Champagne is a blend of several vintages of wine whereas a vintage Champagne must be 100% from the vintage that is stated on the label. Champagne houses use a blend of vintages in their non-vintage Champagne to achieve consistency in their house style that is not dependent on a particular year's weather. House style is very important to Champagne producers as it gives them a unique selling point. For example, Taittenger is known for its purity and freshness while Bollinger is celebrated for its biscuity, full-bodied richness.
Vintage Champagnes, however, allow the Champagne house to exhibit a wine from a vintage they consider exceptional but its flavour profile will reflect the unique weather conditions in that year. Examples of Vintage Champagnes currently available at Slurp are Leon Launois Prestige Brut Vintage 2006 and Bollinger's La Grand Année 2012.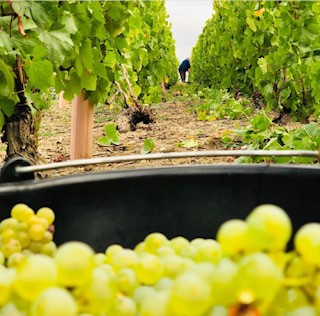 Blend of Grapes or Blanc de Blancs or Blanc de Noirs
As we mentioned before, Champagne is typically made from blending three grape varieties which each have distinctive characteristics that changes the flavour profile and structure of the wine. Chardonnay adds freshness, elegance and finesse; Pinot Noir provides body, structure and complexity and Pinot Meunier contributes fruitiness and floral aromas. The proportions that producers use in blending is one of the main factors that determines the style of the resulting Champagne.
However, not all Champagnes are blends. If you see Blanc de Blancs on a label, it is made solely from Chardonnay grapes. It is more likely to be crisper and more delicate with a citrus-driven flavour profile. Blanc de Noirs Champagnes are produced using the juice of only the black-skinned grapes Pinot Noir and/or Pinot Meunier grapes. Consequently a Blanc de Noirs tends to be richer, fuller-bodied with hints of red fruit.
Dry or Sweet
You have probably seen the word Brut on a Champagne label. This is one of the terms that indicates how much sugar is in the bottle. A Champagne with no added sugar will be labelled as Brut Nature. Being the driest Champagne option, this is highly acidic and intense. The next (marginally sweeter) category is Extra-Brut, which is then followed by Brut. Even though a Brut Champagne has some residual sugar (between 0-12 grams per litre), it is almost imperceptible. This is by far the most popular category of Champagne.
For those of you with a sweeter tooth, there are further categories of Champagne which have increasingly levels of sweetness. Slightly sweeter than Brut is Extra-Sec, followed by Sec, Demi-Sec and finally Doux, the sweetest level with over 50 grams per litre of residual sugar.
Regular or Rosé Champagne
Put simply, this is Champagne which has a pink colour which can vary from a pale pink salmon hue to a deeper rose colour. It is mainly produced by adding a small amount of red wine (usually Pinot Noir) to a white wine during blending. However, it is important to note that this is the only region in France which allows rosé wine to be made in this way. All other rosé wines must obtain their colour by allowing the juice of red grapes to macerate on their skins to extract natural pigments.
The main difference between regular Champagne and pink Champagne, apart from the colour, is the aroma of the wine. Rosé Champagne is fruitier with rich raspberry and strawberry on the nose. Rosé Champagne pairs brilliantly with a wide range of foods from light bites to wintery game meats.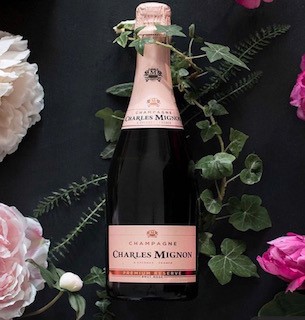 Prestige Cuvée Champagne
Prestige Champagne is the pinnacle of any given producer's Champagne range, made using the finest grapes from their very best vineyards. A prestige cuvée is usually vintage Champagne but there are a few non-vintage examples. Not surprisingly, these wines of outstanding quality command high prices but are considered the ultimate in style and sophistication. If you fancy a taste of the high life, Slurp are stocking two iconic prestige cuvées: Pol Roger Cuvee Sir Winston Churchill 2009 and Bollinger RD 2004.
Our recommendations:
If your budget doesn't quite stretch to the prestige cuvées, there are many different Champagnes available at Slurp ranging from those produced at smaller family-run estates to those made by the most elite houses in the Champagne region (aka The Grandes Marques). We are all hoping for some better days around the corner, but in the meantime, we can create some much needed conviviality at home by letting Champagne add some sparkle to our lives. Here are some of our favourite bottles:
Ayala Brut Majeur
, a wine that is sometimes referred to as Bollinger's elegant little sister, is a sleek and contemporary expression of Champagne. It is an excellent example of Champagne Ayala's fresh and elegant house style. Although it spends roughly three years aging on lees, it is the vibrant citrus, flowers and white fruit aromas which are more evident than the bakery aromas of brioche and fresh bread. This dry, pristine Champagne, made from a blend of Chardonnay, Pinot Noir and Pinot Meunier grapes has won a host of accolades from leading wine publications and critics. It is also the house Champagne at Gordon Ramsay restaurants. We recommend serving it with white fish, shellfish or poultry.
Produced by a small, family-run Champagne House,Charles Mignon Premium Reserve Roséis a beautifully balanced rosé Champagne with precision derived from Chardonnay grapes and structure from Pinot Noir. It's such an inviting rose petal pink-coloured wine, with complex aromas of red fruit, wild cherry, strawberry and raspberry. This is an ideal partner for sushi and smoked salmon.
Taittinger Brut Reserve NV is made up of around 40% Chardonnay which gives this Grandes Marques cuvée an appealing purity, delicacy and refreshing citrus fruit character. Over three years lees ageing adds a gentle brioche character. This Brut NV, with its creamy texture and refreshingly long finish, is an excellent all-rounder.
Taittinger is a truly historic Champagne House, with origins dating back to 1773 and its Champagnes are still aged in the estate's magnificent UNESCO status, 4th Century Roman cellars. Any Taittinger enthusiasts might be interested to note that you are in great company. James Bond was also an avid fan of Taittinger, describing it as "probably the finest Champagne in the world" in the novel "Casino Royale". However, if you are going to order your Champagne with the flair and panache of James Bond make sure you use the correct French pronunciation: It should be "Tet-ahn-jshay" rather than the anglicised "Tat-in-ger".
Bollinger Special Cuvée NV is another classy Champagne, but this one is characterised by its richness, structure, spiciness and creamy texture.
The Bollinger brand is synonymous with sophistication, celebrity and lavish lifestyles; it's the Champagne of choice for numerous heads of states, VIPs and royal family members across the globe. And like Taittinger, Bollinger Champagne also has a connection with James Bond, having featured in almost every James Bond film since "Live and Let Die" was released in 1973. Despite Bollinger's glamourous associations, this is not a case of style over substance. Beneath its glitzy image lies a Champagne that is seriously high in quality.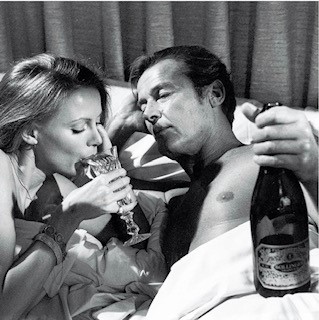 A significant proportion of the predominantly Pinot Noir grapes are sourced from Grand and Premier Cru vineyards, which means that the fruit in a Bollinger Special Cuvée NV Champagne is outstanding. Its hallmark biscuity nose is complemented by hints of roasted apple and white peaches while, on the palate, it delivers pear, brioche and hints of fresh walnut. Beautifully balanced with fresh acidity, it is easy to see why this muscular Champagne has achieved such an iconic status. Recommended pairings for this cuvee include prawns, crayfish or cured ham. However, for the ultimate in decadence and sophistication, try it with grilled lobster tails or caviar.