Brampton Wines – Roxton Black added to the Stellenbosch brand's flagship series
Hugh Taylor Comments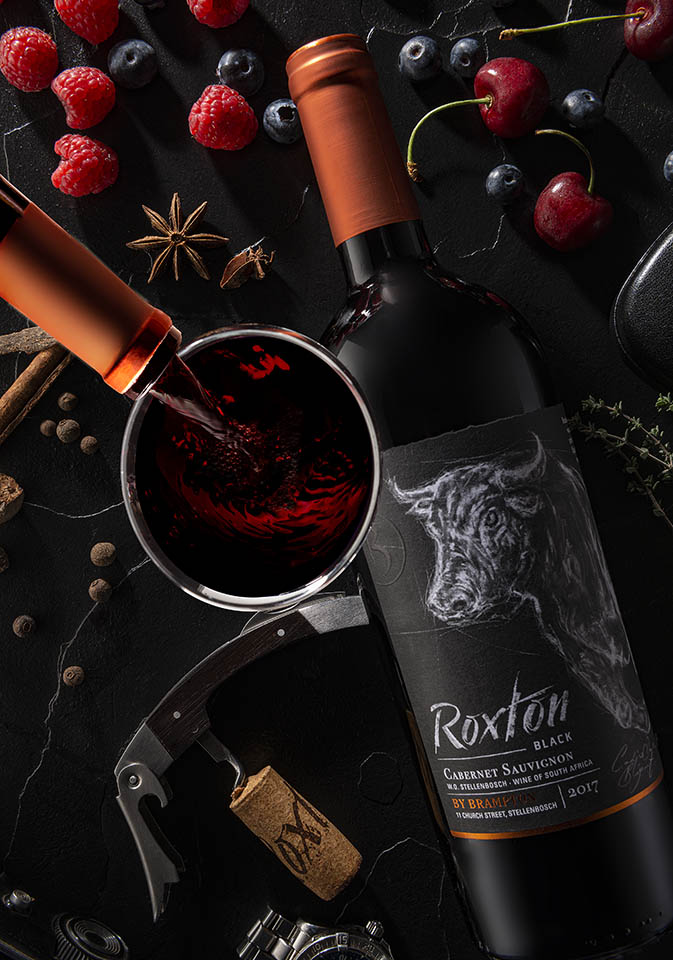 A bull walks into a wine shop.
Bold, handsome, and flexing its muscles, the newly released Roxton Black is the latest addition to the Stellenbosch brand's Flagship "Roxton" series.
Roxton, like his predecessor Brampton, was a pedigree bull that was imported from the UK before the Second World War to bolster our herd here in Stellenbosch.
In the spirit of bold expressive creativity, the flagship wine series showcases artists' expressions of the Roxton legacy in their own media. Made from pedigree Stellenbosch Cabernet Sauvignon grapes, this new release is a full bodied, serious fine wine.
The maiden, 2017 vintage is the first single varietal Cabernet Sauvignon in the series, made with grapes sourced from pristine Helderberg vineyards in Stellenbosch. Grown in predominately granite soils under strict vineyard management, the berries were hand harvested during the dry and warm 2017 vintage. The resulting smaller berries guaranteed excellent concentration of flavour and colour.
Berries were hand selected in the cellar and fermented over 12 days at 26° - 28°C with regular aeration during pump-over. Extended post-fermentation maceration ensured extraction of ripe and round tannins and colour before pressing, then aged in first to fourth fill 300 litre French oak barrels for a further 13 – 16 months.
The wine presents an intense dark and deep ruby red colour, with ripe black fruit, subtle oak spice, tobacco, and mint notes whist maintaining its vibrancy and depth of fruit expression. The palate expresses the vintage by merging the masculine firmness and length of Cabernet Sauvignon with a voluptuous yet elegant fruit core. A seamless integration of oak spice and oak tannin entwined with the masculinity adds real depth and complexity to the wine. Enjoy now with decanting alongside a rich meal. Also perfect for cellaring.
Roxton Black has been launched exclusively to Slurp in the UK at £16.95. Buy 6 bottles and you will receive a FREE Brampton Wines ice bucket.
Watch Winemaker Jacques Viljoen introduce the new release for us on this video. Click here