The Great Wine Dilemma: Should We Be Spending More to Get a Better Deal?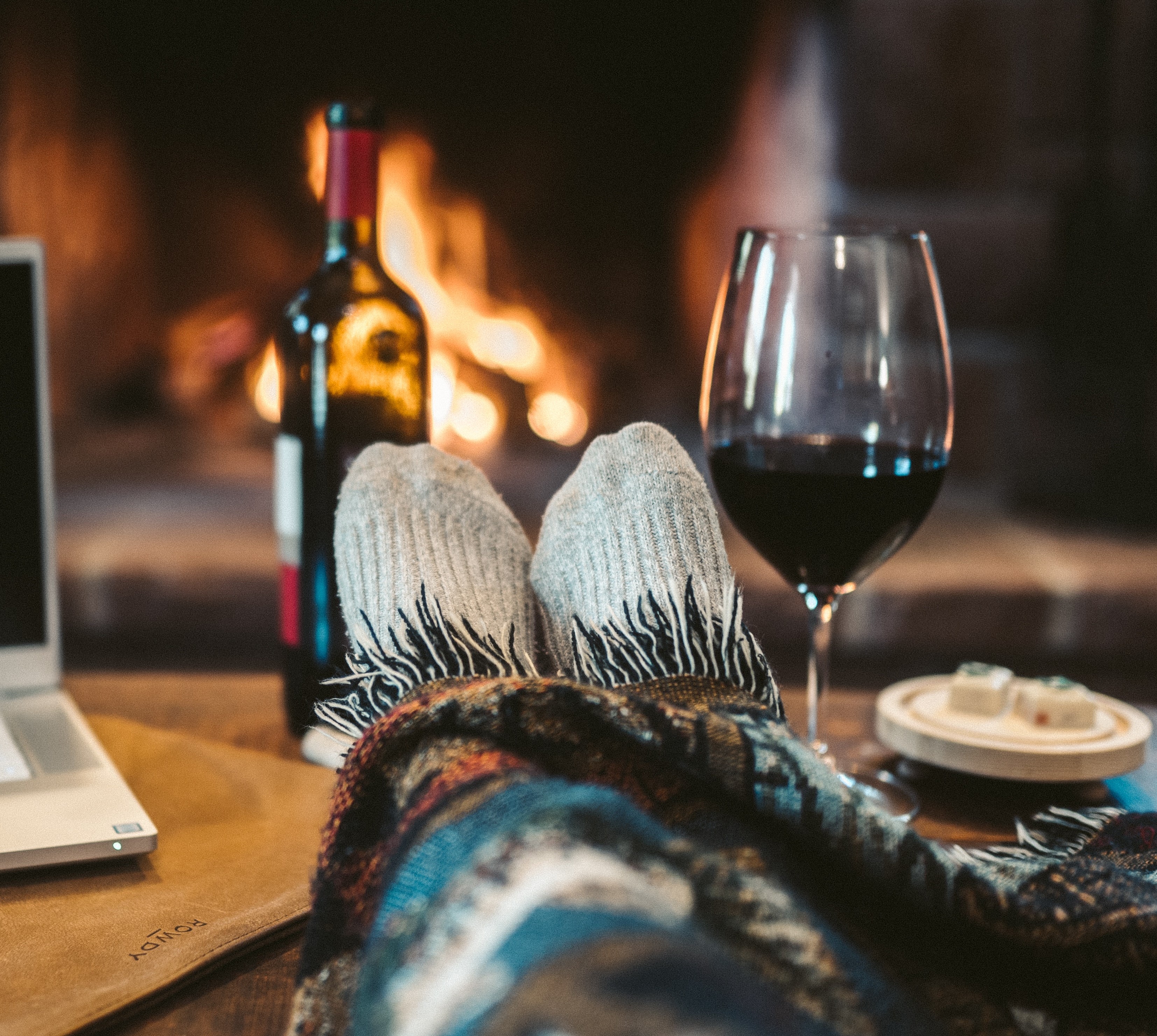 It doesn't seem logical to suggest that paying more will give us greater value for money. But when it comes to buying wine in the UK, this is exactly what wine buyers should be considering.
It is probably no surprise to you that the United Kingdom has some of the highest alcohol duty rates in Europe alongside the Republic of Ireland, Sweden and Finland. What you may not realise is that, while VAT rises in relation to the cost of a bottle of wine, the amount of excise duty is the same irrespective of whether the price of the wine is £5 or £50.
Although the Chancellor, Rishi Sunak, froze excise duty in this year's spring budget, the flat rate currently stands at £2.23 for a 75cl bottle of still wine. By the time you have added VAT to this figure, more than 60% of what you are paying for a £5 bottle of wine ultimately ends up in the government's coffers. After also taking packaging, shipping, storage and marketing costs into the equation, as well as the slim margins made by retailers, the money consumers are actually spending on the wine itself can be as low as 31p. Suddenly, a cheap bottle of £5 wine doesn't seem like such a great bargain.
Many of the costs involved in getting a wine to market are either fixed or approximately the same regardless how expensive the end product is. Aside from the fixed excise duty rate of £2.23 per bottle for still wine (a slightly higher rate of £2.86 applies for sparkling wine), glass, transport and storage costs don't change much either. Therefore if you choose to buy a more expensive bottle of wine, a proportionately higher percentage of your money is going towards the winemaking.
While only 6.2% of the price of a £5 bottle of wine (31p) goes towards the liquid in the bottle, that figure increases to 27% (£2.70)and 35.2% (£7.03) respectively for a £10 and £20 bottle.
This graphic, produced by the wine wholesaler and importer Bibendum, clearly illustrates this.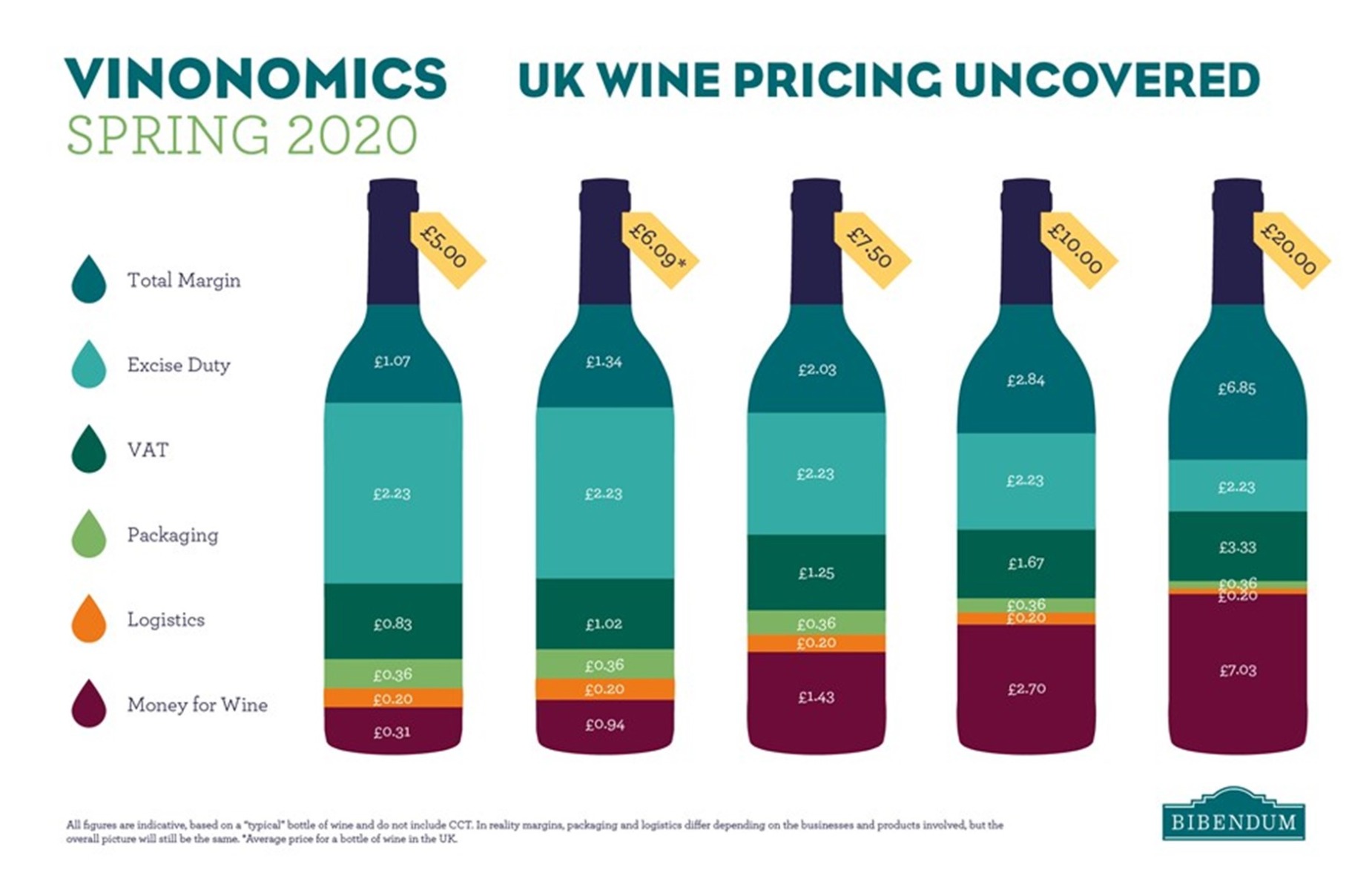 Over the last few years, the wine industry has seen a shift towards consumers buying slightly more expensive bottles of wine. These savvy wine buyers are starting to realise that a more expensive wine equates to more bang for your buck. While there are also still many wine drinkers who fall into the "little and often" category, there are other individuals advocating "healthy" lifestyles, who intersperse their regular visits to the gym and the juice bar with a very special bottle at the weekend. And because they are drinking less often, they are happy to trade up to a premium wine that they can really savour.
Wine education is also playing a part in what people are buying. As wine drinkers become more knowledgeable about wine and their palates develop, they tend to gravitate away from simpler, more approachable wines to pricier options which offer more complexity.
This might just be the time to branch out and try some finer wines which command higher prices but ultimately offer greater value in terms of the quality of the wine. Many of us would select a £30 or £40 bottle from a wine list at a restaurant for a special occasion knowing that we are paying a huge mark up on the retail selling price. We understand that when we are eating out, we are paying for the atmosphere, the storage costs and the serving staff's wages. However, for some of us at the moment, our options to eat out are limited. By spending a little more on a bottle of wine to consume at home, we won't get the same restaurant experience but we might just get to appreciate a wine which delivers just that little bit extra.
At Slurp, there is a wide range of exquisite, fine wines available to buy from prestigious, world-famous appellations such as Meursault, Gevrey-Chambertin, Pomerol and Margaux, for the same price that a sommelier would charge you for a mid-priced wine on a restaurant wine list. Some of the great wines of the world are not as inaccessible after all as long as you are happy to uncork the bottle yourself at home.
If you are tempted to upgrade and try a real classic this autumn, here are a couple of suggestions to whet your appetite.
Meursault Les Narvaux 2016, Boyer-Martenot is a beautiful example of a savoury, rich, nutty white burgundy from one of the most famous communes in the Côte d'Or. This delivers all of the opulence and finesse that you would expect from a Meursault, a commune renowned for producing some of the most full-bodied whites in the French region of Burgundy. This wine is something to behold, demonstrating why Chardonnay-makers across the globe try to emulate the white wines of Meursault. You can try it with rich, creamy mushroom dishes but it is equally majestic to savour without food.
La Colombaia Amarone Della Valpolicella 2016 is truly captivating and full of rich, generous flavours of cherry, roasted coffee beans and dried fruit. Made from dried grapes to enhance its concentration, Amarone is regarded as one of Italy's most iconic wines. For taste of true Italian decadence, try this gentle giant of a wine with cured meats and parmesan cheese. It's the perfect wine to end an evening, best enjoyed when sipped slowly in front of an open fire.
By Catherine Fielden
Photo by Taryn Elliott from Pexels